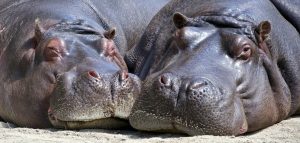 Hippopotamus or is often shortened as Hippo are mammals. They're the third largest mammal. Hippopotamus means "river horse" in Greek.
Hippos live in Africa. They are one of the most dangerous animals in Africa.
A male hippo is called a bull.
A female hippo is called a cow.
A baby hippo is called a calf.
Hippos have short legs, a bug mouth and a body that is shaped like a barrel. Continue reading →
About
My name is Rahmah, I'm originally from Indonesia but currently live in the UK. My educational background is in Electrical Engineering. If you like my blog, please press Ctrl+D to bookmark my page and check What's new at Rahmah Muslim Homeschool.