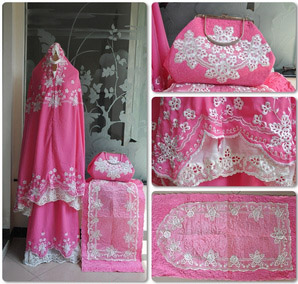 Assalamu'alaikum,
Beautiful 2 piece Embroidered prayer outfits/prayer dresses/prayer clothes/prayer garment sets for women available for sale.
Quick and easy to wear, you could get ready for prayer/salah/namaz in a really short time.
Beautifully designed.
It provides excellent coverage of the entire body (awrah).
Great for daily use at home or the Masjid (intended for indoor use only). Also a perfect gift for your loved ones (a wedding gift) or a gift for revert sisters.
These 2 piece of prayer outfit consists of a large scarf/khimar approx 125 cm in length and a skirt approx 110 cm in length.
Fabric: Semi Silk, Silk velvet
Delivery options for UK mainland only,  for parcel under 1kg (Delivery times are between 3-5 working days);
1. Myhermes tracked, compensation of up to £50: £3.40
2. Myhermes tracked (signature required), compensation of up to £50: £4.40.
Delivery to the US only (Delivery times are between 2-3 working days, this doesn't include possible of customs clearance);
P&P: £15, with tracking number, compensation of up to £50
For other countries please leave a comment.
I'll post the item within 2 working days after receiving your cleared payment.
Subject to availability.
Payment by Paypal.
1. White Prayer outfit with purple embroidery patterns, fabric: polyester mix cotton, £18.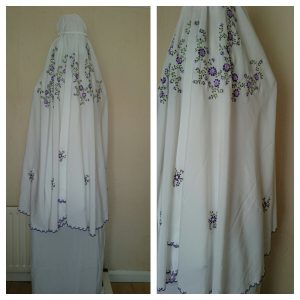 Broken white patterns.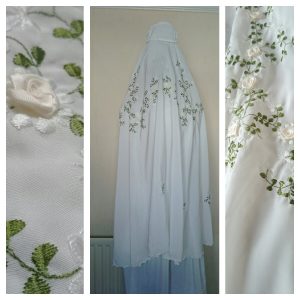 2. Maroon Prayer Outfit, fabric: Semi silk, £23.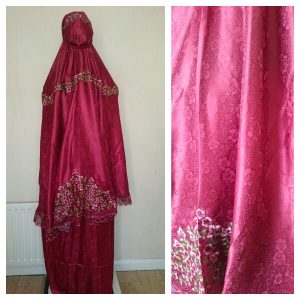 Pink colour.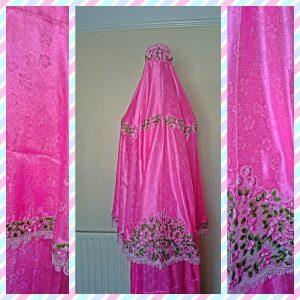 3. Pink Prayer Outfit, fabric: Silk velvet, £24.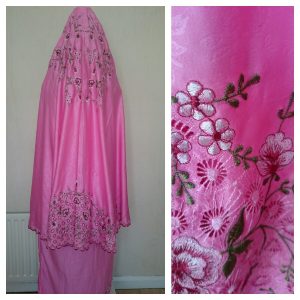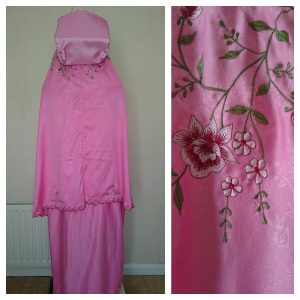 4. Gold/mustard yellow, fabric: Silk velvet, £28.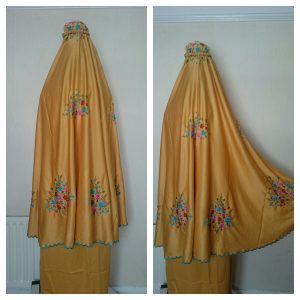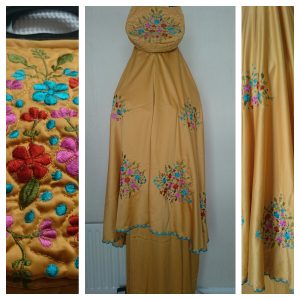 Green Tosca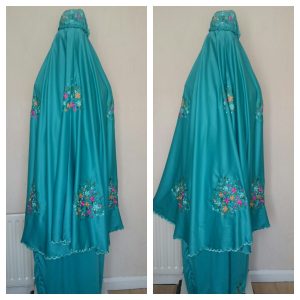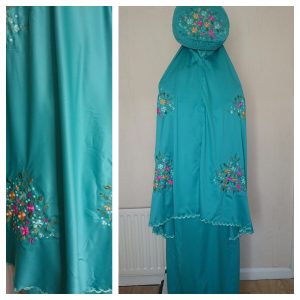 If you're interested, please leave a comment below. I'll reply asap in sha Allah.
Wassalamu'alaikum
About
My name is Rahmah, I'm a homeschooling Mum of five. I live in the UK but I'm originally from Indonesia. My educational background is in Electrical Engineering. If you like my blog, please press Ctrl+D to bookmark my page and check What's new in Rahmah Muslim Homeschool. Please, remember me in your duaa's.