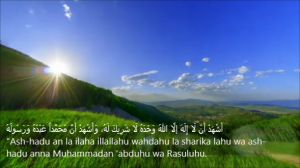 Assalamu'alaikum,
Du'as | Adiyah | Supplications from the Qur'an and the Sunnah by Kamal Uddin.
1. Du'a for when you wake up
الْحَمْدُ للهِ الَّذِي أَحْيَانَا بَعْدَ مَا أَمَاتَنَا وَإِلَيْهِ النُّشُورُ.
Alhamdu lillahil-ladhi 'ahyana ba'da ma 'amatana wa'ilayhin- nushur (Praise is to Allah Who gives us life after He has caused us to die and to Him is the return).
2. Du'a for entering the restroom
اللَّهُمَّ إِنِّي أَعُوذُ بِكَ مِنَ الْخُبُْثِ وَالْخَبَائِثِ
Allahumma 'inni a'udhu bika minal-khubthi wal-khaba"ith (O Allah , I seek protection in You from the male and the female unclean spirits). Continue reading →
About
My name is Rahmah, I'm originally from Indonesia but currently live in the UK. My educational background is in Electrical Engineering. If you like my blog, please press Ctrl+D to bookmark my page and check What's new at Rahmah Muslim Homeschool.