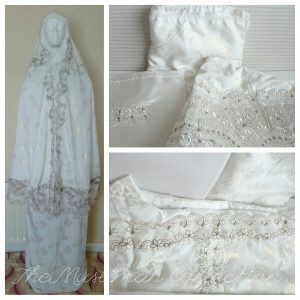 Luxury 2 piece embroidered prayer outfit made from a very good quality small Rose print foil cotton fabric in gold effect.
Quick and easy to wear, you could get ready for prayer/salah/namaz in a really short time.
Beautifully designed.
It provides excellent coverage of the entire body/awrah including the feet.
Great for daily use at home or the Masjid (intended for indoor use only). Also a perfect gift for your loved ones  (for revert sisters, a wedding gift or an Eid gift). Continue reading →
About
My name is Rahmah, I'm a homeschooling Mum of five. I live in the UK but I'm originally from Indonesia. My educational background is in Electrical Engineering. If you like my blog, please press Ctrl+D to bookmark my page and check What's new in Rahmah Muslim Homeschool. Please, remember me in your duaa's.