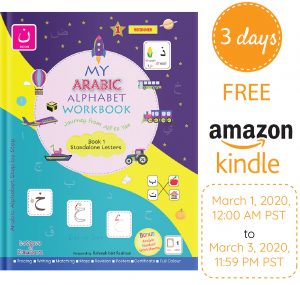 You can now download "My Arabic Alphabet Workbook – Journey from Alif to Yaa: Book 1: Standalone Letters" (kindle version) for FREE from Sunday, March 1, 2020, 12:00 AM PST – Tuesday, March 3, 2020, 11:59 PM PST ( in shaa Allaah). Or FREE to read if you have the Kindle Unlimited membership.
Ideal for teaching your child the Arabic alphabet.
Learn the names of letters in the Arabic Alphabet by tracing, writing and matching the letters.
Includes:
– A guide table to help children to pronounce the Arabic Alphabet.
– The Arabic Alphabet and Number Mats.
– The Arabic handwriting pages.
– Revision page for every chapter.
– Full Colour Illustration for each letter including the word that starts with the letter.
– Certificate of Achievement.
Ages: 5-8
Download here:
Kindle UK: https://amzn.to/2I7QIyp
Kindle US: https://amzn.to/2Vv3jUl
Please note: this kindle ebook contains plenty of handwriting exercise pages. If you require the paperback version, click one of the links below (will be released on 03/03/2020 in shaa Allah):
Amazon UK: https://amzn.to/2I7Mozq
Amazon US
Or search Rahmah Books on any Amazon websites.
No Amazon? Don't worry, you can purchase it here (FREE DELIVERY WORLDWIDE):
https://bit.ly/38b7bfV (search Rahmah Books).
If you want to learn the Tajweed rules, you can purchase the Workbook 2 here (will be released on 03/03/2020 in shaa Allah):
https://bit.ly/2T8FXCn
If you want to check my other books, visit rahmahbooks.com
For wholesale discount, please contact me here: https://bit.ly/2I3JsDQ
Kindle app can be downloaded on iOS, Android, Mac and PC (https://www.amazon.co.uk/kindle-dbs/fd/kcp)
I'd love to hear your feedback!, please leave a review on Amazon.
Spread the word.
Rahmah
About
My name is Rahmah, I'm originally from Indonesia but currently live in the UK. My educational background is in Electrical Engineering. If you like my blog, please press Ctrl+D to bookmark my page and check What's new at Rahmah Muslim Homeschool.