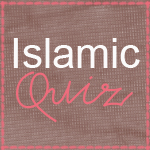 Assalamu'alaikum,
This is the answer for the RMH Weekly Quiz 2.
Where is Masjid An Nabawi?
A. Madinah
B. Makkah
Answer: A. Madinah
Total Answers: 47
A. Madinah (40)
B. Makkah (7)
You can check the latest RMH Weekly Quiz on the sidebar menu.
If you have a quiz and would like to have it included on my blog please contact me here. Subject: RMH Weekly Quiz.
Jazaakumullahu Khairan for reading my blog.
Wassalamu'alaikum.


About
My name is Rahmah, I'm originally from Indonesia but currently live in the UK. My educational background is in Electrical Engineering. If you like my blog, please press Ctrl+D to bookmark my page and check What's new at Rahmah Muslim Homeschool.