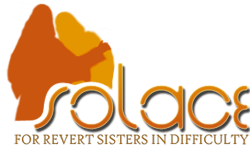 Assalamu'alaikum wr wb,
This is for information purposes only, I am not a member of  this organisation, I just want to spread the word.
SOLACE was set up in 2010 by a group of sisters who were concerned about the difficulties facing revert sisters both in the short and long term, and their variety of needs. Whilst there are many organisations within the United Kingdom catering for the educational and Islamic needs of revert sisters, there appeared to be a lack of support and provision of services catering specifically for the holistic needs of revert sisters. Recognising the need for an organisation with the aim of supporting revert sisters through their various difficulties led to the creation of SOLACE.
SOLACE is a support service for revert sisters in difficulty, regardless of whether they have been Muslim for 2 weeks or even 20 years; it supports them when they are going through life's problems alone, suffering in silence, or even no longer enjoying their Islam. SOLACE is there to listen to them, empower them, and develop a mutual personal development plan which is realistic and person centric, and which will help them reach their short and long term goals.
For more information, please click the button below.

Wassalamu'alaikum wr wb.
About
My name is Rahmah, I'm originally from Indonesia but currently live in the UK. My educational background is in Electrical Engineering. If you like my blog, please press Ctrl+D to bookmark my page and check What's new at Rahmah Muslim Homeschool.