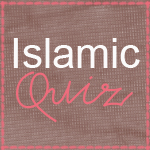 Assalamu'alaikum,
This is the answer for the RMH Weekly Quiz 3.
Which city was known as Yathrib?
A. Madinah
B. Makkah
Answer: A. Madinah
Total Answers: 56
A. Madinah (47)
B. Makkah (9)
You can check the latest RMH Weekly Quiz on the sidebar menu.
If you have a quiz and would like to have it included on my blog please contact me here. Subject: RMH Weekly Quiz.
Jazaakumullahu Khairan for reading my blog.
Wassalamu'alaikum.