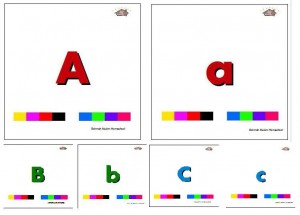 Assalamu'alaikum wr wb,
Please feel free to download the Alphabet Letter Flashcards and Poster (Upper Case and Lower Case) in pdf format.
Flashcards to help your children to learn the Alphabet Letters. It contains Alphabet Letters from A to Z (Upper Case and Lower Case).
What do you need:
1. Scissors.
2. Glue.
3. Ruller.
4. Pencil or pen.
5. Cardboard or empty sereal box.
How to use it:
1. Print each page once.
2. Cut out all pieces along the lines.
3. Cut the cardboard 12 cm x 12 cm (26 cards).
4. Glue the printed flash cards onto the cardboard, one side is for the Upper case letter and the other side is for the Lower case letter.
Alphabet Letters Posters from A to Z. You can print them and it can be displayed on the wall.
Please hover over the tittle you wish to download.
Wassalamu'alaikum wr wb.