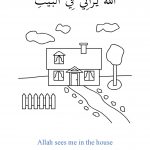 My Colouring Book Allah Sees Me by Nia Nuraeni Gustini LC.MA taken from the "Correct your Arabic pronunciations !" book (صَحِّحْ مَخَارِجَ حرُوْفِكَ!)
This colouring ebook is available in two versions: Arabic-English (bilingual) and Arabic-English-Bahasa (trilingual).
It has the Arabic sentence at the top of the page and then the English version at the bottom (and Bahasa for the trilingual version).
Children can enjoy reading this book with their parents (or by themselves) as well as colouring the illustrations. Continue reading →
About
My name is Rahmah, I'm originally from Indonesia, currently living in the UK. My educational background is in Electrical Engineering. If you like my blog, please press Ctrl+D to bookmark my page and check What's new at Rahmah Muslim Homeschool.