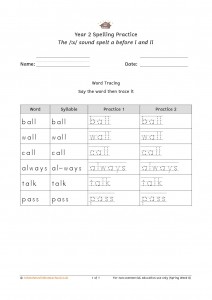 Y2 Spelling Practice, week commencing: 4th March 2019
The /ɔ:/ sound ('or') is usually spelt as a before l and ll.
Regular sounds: ball, wall, call, always, talk
Common exception word: pass
(*plus a homework sheet (page 6) for more able children)
Worksheets: Year 2 Spelling Practice Week 8 or download here.
Instructions to make flashcards: In order to make your "/ɔ:/ sound" words flashcards you will need cardstock (cereal box), printer, glue or double tape, scissors, laminating film (optional). Continue reading →
About
My name is Rahmah, I'm originally from Indonesia, currently living in the UK. My educational background is in Electrical Engineering. If you like my blog, please press Ctrl+D to bookmark my page and check What's new at Rahmah Muslim Homeschool.