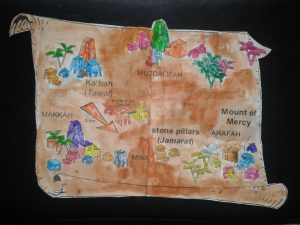 2nd of Dhul Hijjah 1434 H,
Al ithnaan/Monday
Assalamu'alaikum,
We are in the month of Dhul Hijjah now. Every year, millions of Muslims from arround the world make journey to Makkah to perform Hajj in this month. It's the largest annual pilgrimage in the world.
Now, it's a good time to explain Hajj to our kids. So we started our Hajj activities today, we were supposed to start it yesterday on the 1st of Dhul Hijjah 1434H but the kids were not up for it so I decided to postpone it.
These ideas were inspired by the Productive Muslim website, Continue reading →
About
My name is Rahmah, I'm originally from Indonesia, currently living in the UK. My educational background is in Electrical Engineering. If you like my blog, please press Ctrl+D to bookmark my page and check What's new at Rahmah Muslim Homeschool.