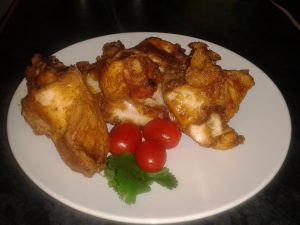 Assalamu'alaikum,
This is one of our favourite menu, it's easy to prepare and so delish!
Forget a takeaway, this will make perfectly good spicy oven-fried chicken at home. They taste as good as fried chicken, no more deep frying!
Ingredients
1 medium halal HMC chicken, cut into 8 parts (2 breasts, 2 thighs, 2 legs, 2 wings) or you can cut it smaller if you want.
3 tsb olive oil/vegetable oil
Marinate ingredients
1 clove of garlic (grated)
1 tbs corriander powder
1 tsp salt
1 tbs water
Continue reading →
About
My name is Rahmah, I'm originally from Indonesia, currently living in the UK. My educational background is in Electrical Engineering. If you like my blog, please press Ctrl+D to bookmark my page and check What's new at Rahmah Muslim Homeschool.