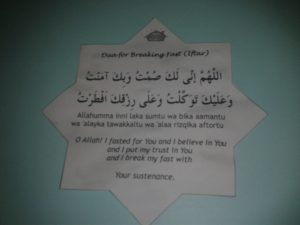 Assalamu'alaikum,
Ramadhan Mubarak, May Allah's blessings be with you Aamiin…
I made this flashcards to help my children to memorize the Intention for Fasting and Dua for Breaking Fast Flashcards. It is very simple to make.
What do you need:
1. Scissors.
2. Glue.
3. Cardboard or empty sereal box.
How to use it:
1. Print it.
2. Cut out all pieces along the lines.
3. Glue the printed flashcards onto the cardboard and cut it as required, one side is for the intention for fasting and the other side is for the dua for breaking the fast.
Download here Dua for fasting FlashCards
Please leave your comments at the bottom of this page or if you would like to share your ideas, click the Guest Post at the top of this page.
Jazaakumullahu Khairan for reading my blog.
Wassalamu'alaikum