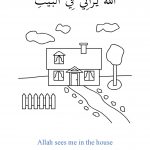 My Colouring Book Allah Sees Me by Nia Nuraeni Gustini LC.MA taken from the "Correct your Arabic pronunciations !" book (صَحِّحْ مَخَارِجَ حرُوْفِكَ!)
This colouring ebook is available in two versions: Arabic-English (bilingual) and Arabic-English-Bahasa (trilingual).
It has the Arabic sentence at the top of the page and then the English version at the bottom (and Bahasa for the trilingual version).
Children can enjoy reading this book with their parents (or by themselves) as well as colouring the illustrations.
Download the bilingual version here and the trilingual version here, إن شاء الله

Author Bio: Nia Nuraeni Gustini is a mother of six children, she is originally from Indonesia but currently living in Australia. Below is a list of her educational background and her achievements in Bahasa:
Name: Nia Nuraeni Gustini LC.MA
FB: Umm Marwan
Nama Anak-Anak: Marwan, Fatima, Luqman, Aasiah, Yunus, Ahmed
Latar belakang Pendidikan :
· S3 Bahasa Arab International University of Africa Sudan (sedang kuliah)
· S2 Bahasa Arab International Islamic University Malaysia  2004-2006
· S1 pendidikan Bahasa Arab International University of Africa Sudan 1998-2001
Pendidikan Non Formal:
• TESOL (Teaching English as Second Language)  di Australia Barat 2012.
• English Level 4 di TAFE , Australia Barat 2010.
• Harvard English College Bandung 1997
Pengalaman kerja :
• Pengajar pengajian Katanning, Australia Barat 2016-2018
• Guru bahasa arab dan Al-quran di International Islamic  school Malaysia 2006-2007
• Penterjemah bahasa Arab di Rumah sakit International Bangkok Thailand 2007
• Dosen pembimbing  untuk mata pelajaran kepemimpinan dan managemen di International Islamic University Malaysia2004-2006
• Pengajar Bahasa Arab di Pertama pusat bahasa Kuala Lumpur Malaysia 2004-2006
• Asisten Sekertaris Penerbitan majalah di club untuk pelajar S2 di International Islamic University Malaysia 2005
• Pengajar Bahasa Inggris di kemping musim panas untuk pelajar Thailand di International Islamic University Malaysia 2005
• Pengajar bahasa Arab di kemping musim panas untuk pelajar 5 universitas  local Malaysia yang diadakan oleh International Islamic University Malaysia 2005
• Mengajar bahasa Arab di Sekolah Islam Sadao, Songkla, Thailand.2004
• Dosen bahasa arab di Ma'had Al-Imarat untuk dirasat Islamiyayah dan luggoh Arabiyah di Bandung 2002-2003
• Guide istri mentri agama Prof Agil munawir di Makkah musim haji 1420 th 2002
• Petugas haji di kantor administrasi cabang Makkah untuk musimhaji 1420 th 2002
• Penterjemah Ibu presiden Sinta Nuriah ketika kunjungan di Sudan 1999