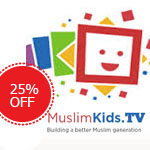 Assalamu'alaikum,
Since becoming a homeschooling Mum, I've started to feel passionate about making educational videos. The reason is because I wanted my kids to learn by themselves by watching it all over again. But I didn't manage to make many videos because of lack of time.
Alhamdulillah, I found an excellent website with halal content called Muslim Kids TV (MKTV). Here, you'll find many good quality Islamic videos and many activities such as worksheets, games and articles for kids. You can even upload your own content and share it with others.
MKTV provides proffessionally done content. They have good relationships with some famous Islamic artists such as Baba Ali (Hurray for Baba Ali), Dawud Wharnsby (Picnic of Poems) and many more.
There is a new 3D animation series for kids to learn the du'as. This series consists of short stories to encourage kids to learn the du'as with fun.
The good thing about MKTV is there are no inappropriate ads and no un-Islamic suggested videos like on Youtube.
MKTV also provides the online surahs reciter called the RecitationBuddy, here you can track your kids progress in learning the surahs. It will benefit from memorization as well.
On the top of that, you'll find a lot of creative ideas that you can do with your kids at home. I definitely recommend this site for homeschooling parents and also muslim parents in general.
If you want good Islamic resources for your kids, MKTV is the place to be.
You can sign up to the monthly subscription for $9.99 (about £6.40) or the yearly subscription for $79.99 (about £51). You will get 1 x Parent Account, 3 x Child Accounts and includes first month FREE.
MKTV offers 25% OFF an annual subscription by using this coupon code: bfjiJ8qa (valid until the 2nd of November 2015).
NEW COUPON CODE: Rahmah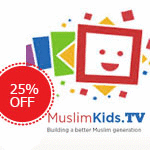 Join Muslim Kids TV today here!
Simple tips for those who don't have a lot of internet data allowance, you can watch the MKTV videos from your smartphone and connect it to TV using an hdmi output.
Check out the video below to give you an idea what to expect on MKTV. Don't forget to adjust your video settings to watch high quality video.

Wassalamu'alaikum