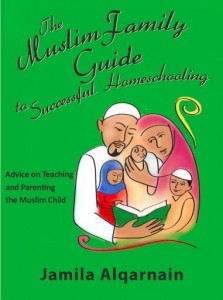 Title: The Muslim Family Guide to Successful Homeschooling
Author: Sister Jamila Alqarnain
This handbook is a valuable tool full of advice from Muslim families who successfully homeschool their children. The Muslim Family Guide to Successful Homeschooling not only motivates and encourages, but also describes in 'real life' experience how to teach your own. We all want our kids to become lifelong enthusiastic learning Mu'min. The Muslim Family Guide to Successful Homeschooling can help you teach your children to develop the attitudes to do just that. In essence, your attitudes, outlook and guidance based on Islamic educational tradition that is best done everyday at home. This book will help show you how its done. In sha Allah!
The Muslim homeschool guide will teach you: Continue reading →
About
My name is Rahmah, I'm originally from Indonesia, currently living in the UK. My educational background is in Electrical Engineering. If you like my blog, please press Ctrl+D to bookmark my page and check What's new at Rahmah Muslim Homeschool.