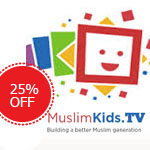 Assalamu'alaikum,
Since becoming a homeschooling Mum, I've started to feel passionate about making educational videos. The reason is because I wanted my kids to learn by themselves by watching it all over again. But I didn't manage to make many videos because of lack of time.
Alhamdulillah, I found an excellent website with halal content called Muslim Kids TV (MKTV). Here, you'll find many good quality Islamic Continue reading →
About
My name is Rahmah, I'm originally from Indonesia, currently living in the UK. My educational background is in Electrical Engineering. If you like my blog, please press Ctrl+D to bookmark my page and check What's new at Rahmah Muslim Homeschool.