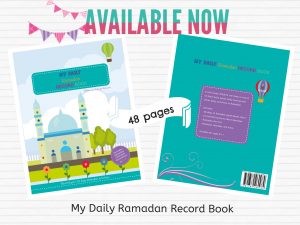 Updated: the New Edition is available here.
With a new design and more activities.
This is my new book available on Amazon,
"My Daily Ramadan Record Book".
It contains 48 pages of full colour paperback (8.5″x11″), including 30 pages of a daily checklist of Salah, fasting and other activities in Ramadan.
In this book children can keep a record of their daily activities in Ramadan.
Includes:
– A daily checklist of Salah, fasting, Qur'an recitation and other daily activities in Ramadan
– 30 days of Ramadan good deeds chart Continue reading →