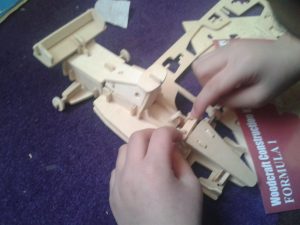 Assalamu'alaikum,
My 9 y.o likes to play with construction toys. Actually it keeps him occupied and busy. His dad bought him a woodcraft construction kit (it's suitable for ages 7 and up). So I assumed he could build it himself.
And here is his formula 1 car. Although he broke some pieces, he managed to fix it with Continue reading →
About
My name is Rahmah, I'm originally from Indonesia, currently living in the UK. My educational background is in Electrical Engineering. If you like my blog, please press Ctrl+D to bookmark my page and check What's new at Rahmah Muslim Homeschool.