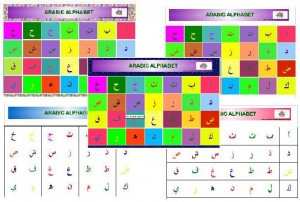 Assalamu'alaikum wr wb,
Please feel free to download the Arabic Alphabet Posters (pdf format).
A bright and colourful Arabic Alphabet Posters for kids. Choose the design that you like, you can print them and it can be displayed on the wall.
Please hover over the tittle (Arabic Poster 1,2,3,4 or 5) you wish to download.
Wassalamu'alaikum wr wb.
About
My name is Rahmah, I'm a homeschooling Mum of five. I live in the UK but I'm originally from Indonesia. My educational background is in Electrical Engineering. If you like my blog, please press Ctrl+D to bookmark my page and check What's new in Rahmah Muslim Homeschool. Please, remember me in your duaa's.