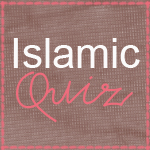 Assalamu'alaikum,
A simple quiz about the biography of the Prophet Muhammad SAW.
All the questions in the exam along with their answers, your score, your performance rating and your grade will be shown at the end of the quiz.
Are you ready to test your knowledge?
Quiz about the biography of Prophet Muhammad SAW.
Wassalamu'alaikum.
About
My name is Rahmah, I'm originally from Indonesia but currently live in the UK. My educational background is in Electrical Engineering. If you like my blog, please press Ctrl+D to bookmark my page and check What's new at Rahmah Muslim Homeschool.