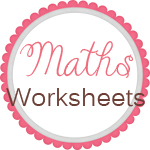 Assalamu'alaikum,
Here is a good maths blog that has a lot of free maths worksheets for Reception and Year 1 to 6. They are arranged in years, based on the UK curriculum i.e Year 1 is for children aged 5/6.
The links below will take you to the Maths blog site.
Reception Maths Worksheets (4 to 5 years old)
Year 1 Maths Worksheets (5 to 6 years old)
Year 2 Maths Worksheets (6 to 7 years old)
Year 3 Maths Worksheets (7 to 8 years old)
Year 4 Maths Worksheets (8 to 9 years old)
Year 5 Maths Worksheets (9 to 10 years old)
Year 6 Maths Worksheets (10 to 11 years old)
Wassalamu'alaikum
About
My name is Rahmah, I'm originally from Indonesia, currently living in the UK. My educational background is in Electrical Engineering. If you like my blog, please press Ctrl+D to bookmark my page and check What's new at Rahmah Muslim Homeschool.