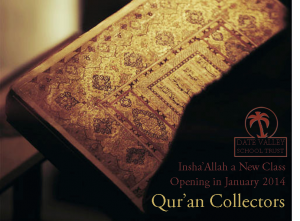 New Qur'an Collectors Class
Opening in January 2014 at Date Valley School Insha'Allah
Assalaamualaikum wa Rahmatu-Allahi wa Barakaatuhu,
All praise and thanks is due to Allah, who has allowed us to begin a new project specifically catered to those parents and children who are committed to the rewarding task of memorising the entire Noble Qur'an (or the greater portion of it).In September 2013 we begun our new Qur'an Collectors Class – a group of only 8 boys collecting the Qur'an in their hearts and minds for up to 4 hours in the mornings, Monday thru to Friday during term time.
10 weeks on and Alhamdulillah we have the opportunity to work with an additional group – This time we have opened up the group exclusively for 8 girls aged 8 – 13 years old that are currently being home-schooled.
What you need to know
The class is only available to home-educated girls aged 8 to 13 years old (to express intrest for different age range/gender, please reply back to us)
Knowing how to read the Qur'an and having memorised all or the greater portion of Juz Amma is a precondition to attending the class.
Insha'Allah Taught by Ustadha Hana Yehia. Experienced Hafidhaat & Teacher of Qur'an, holding an Ijaaza of recitation in accordance with Hafs 'an 'Asim, attained in Cairo, Egypt. 2011.
The class runs for 20 hours per week, from 8am to 12pm midday every day during term time and costs £60 per week*
Requires dedication & commitment from parent, child and teacher to producing the next generation of Hafidhaat Insha'Allah!
Parent and child need to attend an interview upon registration.
Based in Mitcham, South London. Starting January 2014 Insha'Allah.
Only 8 spaces available. Please spread the word to those that may be interested.
To express your interest, find out more, or reserve one of only eight available places:
Please email us back on faizal@datevalley.org
Or give us a call on 07788 888598.
For Location information please see our website www.datevalley.org
JazakamuAllahu Khayrun
Sr Razina
Principal
*price is subject to change. we are working on a sponshorship programme for those dedicated but unable to commit financially. please enquire
(Umm Rahmah: Please note that I'm not a member of this school/organization, I just want to spread the word).