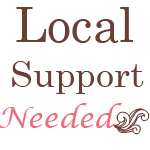 Assalamu'alaikum,
Do you know any homeschooling support groups in your area?
Are you looking for a homeschooling group in your area?
Do you own a homeschooling group?
If you answer yes to one of the above. Please let the world know by leaving a comment below including your details i.e name, area, your group's link, contact etc. In sha Allah this information will be useful to any Muslimah who is homeschooling, starting to homeshool or interested in homeschooling.
Wassalamu'alaikum