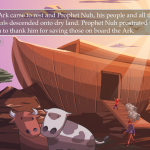 Islamic Childrens Stories on iPad
The amazing story from the Quran of Prophet Nuh (Noah) and the great flood, told from the Islamic perspective. This childrens storybook is filled with beautiful illustrations and interactive pages making the story of the Ark and the animals an engaging narrative for all.
Take your child through the popular story of Nuh, or Noah, and his following the order of Allah to build a huge ship called the Ark to save his people and the animals from the huge flood.
WHAT'S INSIDE: