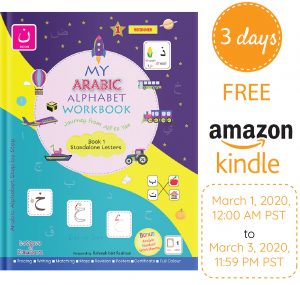 You can now download "My Arabic Alphabet Workbook – Journey from Alif to Yaa: Book 1: Standalone Letters" (kindle version) for FREE from Sunday, March 1, 2020, 12:00 AM PST – Tuesday, March 3, 2020, 11:59 PM PST ( in shaa Allaah). Or FREE to read if you have the Kindle Unlimited membership.
Ideal for teaching your child the Arabic alphabet.
Learn the names of letters in the Arabic Alphabet by tracing, writing and matching the letters. Continue reading →
About
My name is Rahmah, I'm originally from Indonesia but currently live in the UK. My educational background is in Electrical Engineering. If you like my blog, please press Ctrl+D to bookmark my page and check What's new at Rahmah Muslim Homeschool.