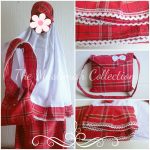 Two Piece Girls Children Prayer Clothes Praying Outfit Dress.
Quick and easy to wear, you could get ready for prayer/salah/namaz in a really short time.
It's a good way to encourage children to start praying.
It provides excellent coverage of the entire body/awrah including the feet. Continue reading →
About
My name is Rahmah, I'm originally from Indonesia but currently live in the UK. My educational background is in Electrical Engineering. If you like my blog, please press Ctrl+D to bookmark my page and check What's new at Rahmah Muslim Homeschool.