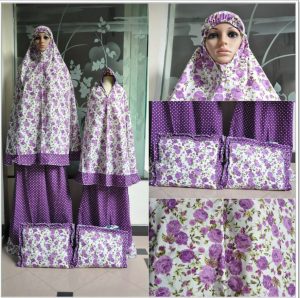 Assalamu'alaikum,
Beautiful 2 piece Mother and Daughter Matching prayer outfit set.
Quick and easy to wear, you could get ready for prayer/salah/namaz in a really short time.
Beautifully designed.
It provides excellent coverage of the entire body (awrah).
Great for daily use at home or the Masjid (intended for indoor use only). Also a perfect gift for your loved ones. It's a good way to encourage your daughter to start praying in sha Allah.
These 2 piece of prayer outfit consists of a large scarf/khimar and a skirt.
FREE handbag to keep the prayer outfit clean and it can be converted into a prayer mat.
Fabric: Cotton.
(Subject to availability)
About
My name is Rahmah, I'm a homeschooling Mum of five. I live in the UK but I'm originally from Indonesia. My educational background is in Electrical Engineering. If you like my blog, please press Ctrl+D to bookmark my page and check What's new in Rahmah Muslim Homeschool. Please, remember me in your duaa's.