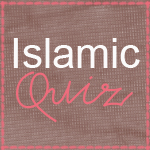 Assalamu'alaikum,
This is the answer for the RMH Weekly Quiz 10.
Where was the Qur'an revealed first?
A. The Mount of Judi
B. The Cave of Hira
Answer: B. The Cave of Hira
Total Answers: 33
A. The Mount of Judi (1)
B. The Cave of Hira (32)
You can check the latest RMH Weekly Quiz on the sidebar menu.
If you have a quiz and would like to have it included on my blog please contact me here. Subject: RMH Weekly Quiz.
Jazaakumullahu Khairan for reading my blog.
Wassalamu'alaikum.


About
My name is Rahmah, I'm a homeschooling Mum of five. I live in the UK but I'm originally from Indonesia. My educational background is in Electrical Engineering. If you like my blog, please press Ctrl+D to bookmark my page and check What's new in Rahmah Muslim Homeschool. Please, remember me in your duaa's.