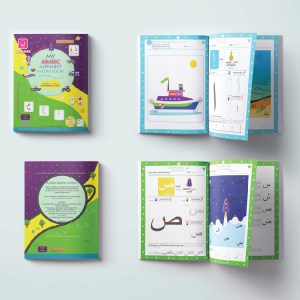 This is the Bilingual version (English-Bahasa) of My Arabic Alphabet Workbook – Journey from Alif to Yaa.
Available on Amazon UK, Amazon US, Book Depository (Free Delivery Worldwide), Barnes&Noble-US, fishpond-AU, Opentrolley-SG, Opentrolley-MY, Aladin-KR, Books-TW. In shaa Allaah.
Belajar huruf Hijaiyah dengan cara menebalkan, mewarnai, menulis dan memasangkan huruf-huruf. Disertai dengan ilustrasi berwarna yang menarik. Setiap huruf terdapat contoh kata dengan kosakata dalam bahasa Inggris, Arab dan Bahasa.
Bonus: Lembar kerja Angka Arab.