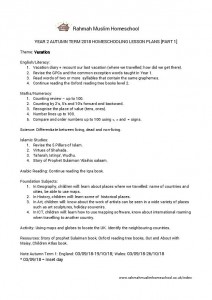 Below are our homeschooling lesson plans for Year 2 based on the National Curriculum in England:
Theme: Vacation
English/Literacy:
1. Vacation diary + recount our last vacation (where we travelled; how did we get there).
2. Revise the GPCs and the common exception words taught in Year 1.
3. Read words of two or more syllables that contain the same graphemes.
4. Continue reading the Oxford reading tree books level 2.
Maths/Numeracy:
1. Counting review – up to 100.
2. Counting by 2's, 5's and 10's forward and backward.
3. Recognise the place of value (tens, ones). Continue reading →