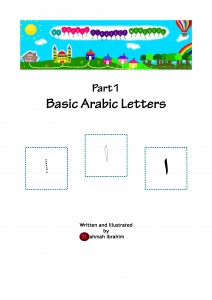 Assalamu'alaikum wr wb,
Please feel free to download My Arabic Alphabet Workbook Part 1, Basic Arabic Letters (31 pages).
Learn and practice to write the Arabic Letters.
Ask your child to say the letter as your child traces it.
To help how it is pronounced in English, Please read the writing underneath the Arabic letter i.e.
ا alif as in apple, ثtsa as in think (not fink as in a cockney accent), ر ro; r as in run; o as in octupus, س seen as in sit, ش sheen as in shut, ط to; t as in tip; o as in octupus (not to as in to you).
Help your child as needed and praise your child at the completion of each worksheet.
Set the number of pages your child will complete in a day or do the practice for fifteen minutes only. The idea is Continue reading →