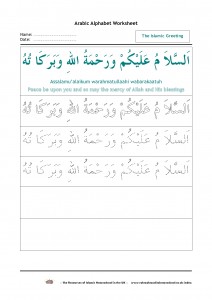 :: The Islamic Greeting ::
Assalamu'alaikum wr wb,
Learn and practice to write sentences in Arabic.
اَلسَّلاَ مُ عَلَيْكُمْ وَرَحْمَةُ اللهِ وَبَرَكَا تُهُ
→ Assalamu'alaikum warahmatullaahi wabarakaatuh (Peace be upon you and so may the mercy of Allah and His blessings).
Please incourage your child to write her/his name.
Help your child as needed and praise her/him at the completion of each worksheet.
Colour it, trace it, write it.
Remember to write from right to left.
Practice makes perfect!
Download: Assalamu'alaikum Worksheet
Wassalamu'alaikum wr wb.
About
My name is Rahmah, I'm a homeschooling Mum of five. I live in the UK but I'm originally from Indonesia. My educational background is in Electrical Engineering. If you like my blog, please press Ctrl+D to bookmark my page and check What's new in Rahmah Muslim Homeschool. Please, remember me in your duaa's.