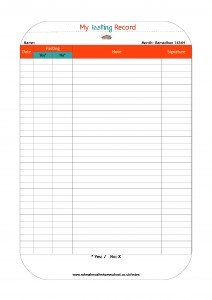 Assalamu'alaikum,
Now you can print My Fasting Record to keep track of your child's fasting in the month of Ramadhan. It's very easy to use In sha Allah.
There is a space to write down/note reasons for not fasting. If your child fast for half a day only, you can write a note "half-fast until 12 pm or 1 pm etc". It's important to comment on his/her progress.
Download here My Fasting Record Colour and My Fasting Record BW
Please leave your comments at the bottom of this page or if you would like to share your ideas, click the Guest Post at the top of this page.
Jazaakumullahu Khairan for reading my blog.
Wassalamu'alaikum
Umm Rahmah