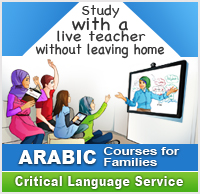 Assalamu'alaikum,
We started our online Arabic class with the Critical Language Service a few weeks ago via Skype. Only three of us in the classroom.
Just like a normal classroom, we interacted with the teacher live and direct as if we were sitting in the same classroom.
The teacher used a whiteboard to explain the lessons so that everyone could copy and practiced the Arabic handwriting at the same time. The teacher always asked us to repeat the words and asked us to make short sentences in Arabic language.
The class is handled by two teachers, Ms. Aron and Ms. Sabah. The Critical Language Service follow a split teaching model. The live class (Skype) is always taught by Ms.Sabah (in Egypt) while online work and homework between classes is handled by Ms.Aron (in America) via interactive classes called edmodo.com. We practiced our lessons using youtube videos and some arabic apps.
Here are what we've learnt so far;
Some Basic Arabic Conversations such as
1. What is your name?
Maa ismuka (Masculine)
Maa ismuki (Feminine)
2. My name is ——
Ana ismee ——- (M/F).
3. Where are you from?
Min ayna anta (M)?
Min ayna anti (F)?
4. I am from England.
Ana min Ingeltra (M/F).
How to use Subject in singular/plural forms and masculine/feminine forms such as ana, anta, anti, antuma, antum, antuna, nahnu, hiya, huwa, hom and many more.
Review 2 click here.
Learn the Arabic language with the Critical Language Service is very fun and easy. The youtube videos and the apps have helped us to understand the lessons more.
Based on our experience, Online learning in group is more fun than learning in individual lessons (one to one). We can incourage and help each other toward the lessons, we feel more confident as well.
I would recommend homeschoolers to use the Critical Language Service because it is handled proffesionally, the teachers are really helpful, it can help your child to learn the Arabic language easily at affordable price and the important thing is you can do the lessons at home. I personally prefer to learn the Arabic language using this method than using interactive CD. You can actually speak to a real person.
If you are interested to join FREE Online Arabic Class, please visit this link.
Please leave your comments at the bottom of this page or if you would like to submit your worksheets, click the Guest Post at the top of this page.
Jazaakumullahu Khairan for reading my blog.
Wassalamu'alaikum.