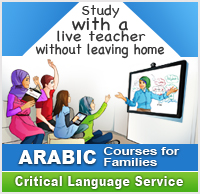 Assalamu'alaikum,
We started our online Arabic class with the Critical Language Service a few weeks ago via Skype. Only three of us in the classroom.
Just like a normal classroom, we interacted with the teacher live and direct as if we were sitting in the same classroom.
The teacher used a whiteboard to explain the lessons so that everyone could copy and practiced the Arabic handwriting at the same time. The teacher always asked us to repeat the words and asked us to make short sentences in Arabic language.
The class is handled by two teachers, Ms. Aron and Ms. Sabah. The Critical Language Service follow a split teaching model. The live class (Skype) is always taught by Ms.Sabah (in Egypt) while online work and homework between classes is handled by Ms.Aron (in America) via interactive classes called edmodo.com. We practiced our lessons using Continue reading →
About
My name is Rahmah, I'm originally from Indonesia but currently live in the UK. My educational background is in Electrical Engineering. If you like my blog, please press Ctrl+D to bookmark my page and check What's new at Rahmah Muslim Homeschool.