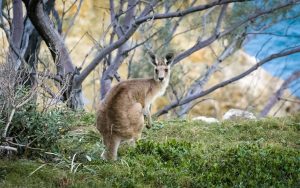 Kangaroos are unique animals because of the pouch on their tummy. This means the mother kangaroo can carry her baby in a pouch on her tummy.
Kangaroos have huge back legs and big feet. They move by hopping around on their strong back legs. They have a long thick tail to help them balance when they hop and to support them when they sit or walk.
Kangaroos live in the wild only in Australia, New guinea and nearby island. In Australia the word kangaroo is often shortened to just roo.
Male kangaroos are called bucks, boomers, jacks, or old men.
The females are called does, flyers, or jills.
A baby kangaroo is called a joey.
Kangaroos live together in groups called mobs.
There can be up to 100 kangaroos in a mob.
About
My name is Rahmah, I'm originally from Indonesia but currently live in the UK. My educational background is in Electrical Engineering. If you like my blog, please press Ctrl+D to bookmark my page and check What's new at Rahmah Muslim Homeschool.