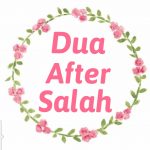 What to say after every obligatory Salah?
• Astaghfirullah (I ask Allah for forgiveness) three times.
• Allahumma anta al-salām wa minka al-salām tabarakta ya dhal-jalali wa'l-ikrām
Translation: O Allāh, You are the One Who is free from all defects and deficiencies and from You is all peace, blessed are You, O Possessor of majesty and honour.
• La ilaha ill-Allāh wahdahu la shareeka lah, lahu'l-mulk wa lahu'l-hamd wa huwa 'ala kulli shay'in qadeer. La hawla wa la quwwata illa Billah wa la na'budu illa iyyah. Lahu'l-ni'mah wa lahu'l-fadl wa lahu'l-thana al-hasan. La ilaha ill-Allah mukhliseena lahu'l-deena wa law kariha'l-kafiroon. Allahumma la mani'a lima a'tayta wa la mu'tiya lima mana'ta wa la yanfa'u dha'l-jaddi minka al-jadd.
Translation: "There is no god but Allah Alone, with no partner or associate His is the sovereignty and to Him be praise, and He is Able to do all things. There is no power and no strength except with Allah, and we worship none but Him. From Him (alone) come all blessings and favours, and all good praise is due to Him. There is no god but Allah and we make our worship purely for Him (alone) however much the disbelievers may hate that. O Allah, none can withhold what You give and none can give what You withhold, and no wealth or majesty can benefit anyone for from You is all wealth and majesty." Continue reading →
About
My name is Rahmah, I'm originally from Indonesia but currently live in the UK. My educational background is in Electrical Engineering. If you like my blog, please press Ctrl+D to bookmark my page and check What's new at Rahmah Muslim Homeschool.