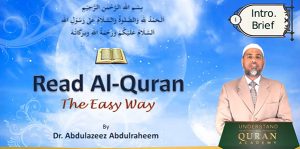 Assalamu'alaikum,
Alhamdulillah, I'm happy to have had the opportunity to try out this amazing program from the Understand the Qur'an Academy (UQA) for 30 days. MashaAllah, the teacher is really knowledgeable! May Allah reward him and his team for all the efforts for helping us to understand the book of Allah.
When learning to read from the Qur'an, the first thing that needs to be learnt is the tajweed. This is the way in which the prophet used to recite and therefore we should follow in his footsteps. Once we learn how to read the Qur'an, it also helps to understand the words and their meanings. This is what the course by the UQA entails, a person gains the ability to understand the meaning of every single word!
My experience with UQA has been great! I've been looking for an effective way to know the meaning of the Qur'an without  having to learn the Arabic language first. Continue reading →
About
My name is Rahmah, I'm originally from Indonesia, currently living in the UK. My educational background is in Electrical Engineering. If you like my blog, please press Ctrl+D to bookmark my page and check What's new at Rahmah Muslim Homeschool.