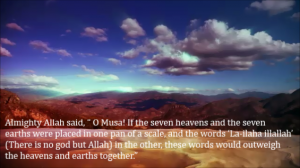 Assalamu'alaikum,
This is our second video of Tawhid for Kids series. Please click here to watch Part 1.
The Prophet Muhammad s.a.w once said to his Companions:
One day Prophet Musa a.s prayed to Almighty Allah to teach him some form of dhikr for his remembrance.
Allah commanded him to recite, "Lailaha illallah (There is no god but Allah)!" Continue reading →
About
My name is Rahmah, I'm originally from Indonesia but currently live in the UK. My educational background is in Electrical Engineering. If you like my blog, please press Ctrl+D to bookmark my page and check What's new at Rahmah Muslim Homeschool.